YubiKey
User-friendly, secure authentication

The YubiKey stops account takeovers and prevents data breaches with FIDO-based security that fends off man-in-the-middle attacks. Users no longer need to pick up their smartphone or re-enter passcodes. Other than plugging in and tapping the YubiKey, everything is taken care of. The YubiKey works with Windows and Mac, Gmail, Dropbox, Facebook, Salesforce, Duo and many other services.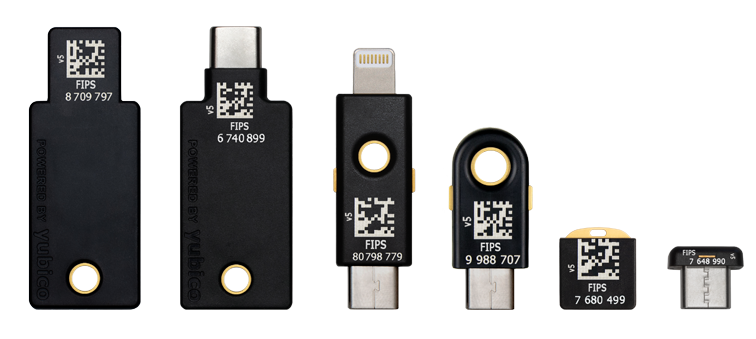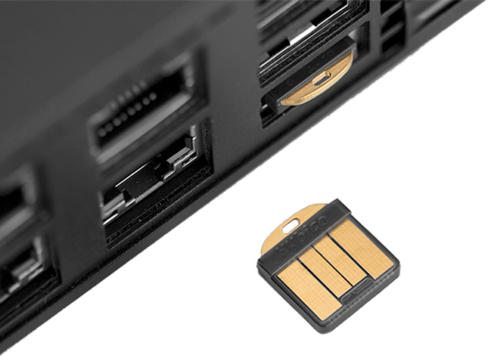 Protect your servers with YubiHSM
Did you know that Yubico also offer an HSM? Give your team an advanced, accessible and cost-effective hardware security solution that you can take with you in the palm of your hand.
Easy deployment and management in the enterprise
Proven in many places
Thousands of businesses and millions of end users use YubiKey to simplify and secure access to computers, internet services, and mobile apps. Our customers include 9 of the top 10 Internet companies, 3 of the top 5 financial and retail companies, and several of the largest government agencies around the world.
Groundbreaking global standards
The first YubiKey was released in 2008. Inspired by the term "ubiquity", the vision here was to protect all online accounts with one security key. To achieve this, our founders moved from Sweden to Silicon Valley to introduce a new global security standard that is now supported by all leading platforms and browsers.